Christmas
Every year Christmas arrives early in Stronghold Kingdoms, with festive Resource Stashes in-game, snow and an advent calendar featuring more prizes. Log in every day for your chance to win Card Packs and Wheel Spins.
As a thank you to the Kingdoms community, we are giving away Card Packs and Premium Tokens. In order to receive these all you need to do is login and open a door on the Kingdoms Advent Calendar. The calendar is open to anyone with a Kingdoms account and new prizes will be available every day. Players are allowed two chances to win per day between now and December 25th when the Calendar closes.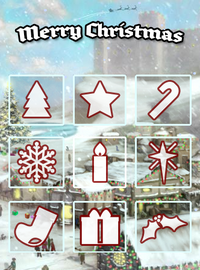 Here's what you need to do to take part:
1) Log in to Stronghold Kingdoms once a day.
2) Click on one of nine advent calendar doors.
3) Click on a second door if you don't win the first time.
4) Come back the next day for another chance to win!
Every Christmas present is uncovered by the first Scout to reach the Present Stash. This gives that player a chance to get a precious Wheel Spin. The Present Stash will transform into a regular stash of wood, meat, ale or another much needed resource.
The only requirement is to uncover/open the Present stash. 
They do not need be in your honour circle to give you a Wheel Spin. 
Uncovered stashes do not give wheel spins.

So if you have not had much luck in the daily calendar, be sure to send out your Scouts before your neighbours do!
On the 1st of December we make it snow in Stronghold Kingdoms for the festive season! You will now find all corners of each game world covered in a soothing layer of fresh snow.
Please note the Snow is purely cosmetic, as such snow will not affect gameplay. Snow can also be turned off in the settings if you get too cold.

The Christmas events start on the 1st December. The last day of the advent calendar is 25th December. The last day of the in-game snow and present stashes is 1st January.